Sowing seeds of romance can be hard row to hoe
Dating website helps farmers find partners who can deal with lifestyle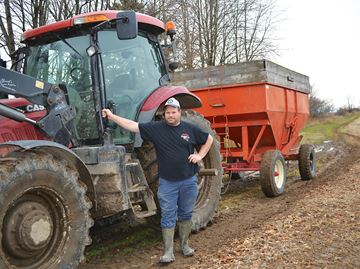 Sowing seeds of romance can be hard row to hoe
Jenni Dunning photo
Rob Widdes said it can be difficult for some farmers to find someone compatible to date.
Midland Mirror
NORTH SIMCOE – Some dairy farmers in north Simcoe spend more time with their cows on a Saturday night than with a date.
FarmersOnly.com
, a new-to-Canada dating website for farmers, wants to change that.
Rob Widdes, 43, said he has been single most of his life. The Tay Township dairy farmer has a girlfriend now, but said it can be difficult finding someone compatible.
"In terms of meeting women who understand what I do, it's tough in the Midland area. It's a lot of town people around here," he said. "The flexibility of getting away from the job is sometimes hard, but I accept it. I find that with a lot of farmers."
Widdes manages about 85 milking cows and 200 animals overall, including calves, at Old Fort Farms with his dad and brother-in-law.
His mom and sister handle accounting for the farm, which has been a family business since the turn of the century, he said.
Widdes has been milking cows since age 19. He wakes at 5:15 a.m., heads to the barn to milk the cows, and goes for breakfast around 9:40 a.m.
Then he works until noon, and after lunch does tasks around the farm until 3:45 p.m., when he milks the cows again. He is usually finished at 6:30 p.m. He said he typically works 14 days straight and then takes a weekend off.
"It's the cost of doing business. It's better than no days off," he said. "Some guys are investing in (robotic milking) equipment so it makes it easier and you can be social and go do stuff."
Even then, Widdes added, young farmers can find it difficult to keep up a dating life.
"The modern-day guy wants to get off the farm and do things, (but) it's not as if you can just take off and do whatever," he said. "I don't think any modern-day woman would put up with that. They're not (all) stay-at-home moms."
As for his own girlfriend, he said, "I didn't meet her on a website, by the way."
They play in the same baseball league.
U.S.-based FarmersOnly has recently expanded into Canada since its creation in 2005. So far, the website has received a "tremendous" amount of traffic from Canadians, said its creator, Jerry Miller.
Overall, more than 1.5 million people have signed up on the site, he said.
"I saw there was a need for people who live in the middle of nowhere who work 100 hours a week and already know everyone," he said.
There may be thousands of people in the dating pool of a town or city, but there might not be anyone in some small, rural communities, he added.
"(The site) is a vehicle for people to meet someone who they might not have had a chance to meet," said Miller. "They're similar in likes and dislikes. It saves them a lot of time from going through thousands of profiles they might not relate to."
Although many of the website's members are farmers, it is also open to people who live in the country or who are lovers of nature and animals.
The site is open to all ages: "I was really shocked some 90-year-olds are on the site," Miller said, adding FarmersOnly has seen "thousands" of success stories.
"There's still a lot of lonely people out there and it would be really nice if they … met someone."
Original article can be found here: http://www.simcoe.com/community-story/5023367-sowing-seeds-of-romance-can-be-hard-row-to-hoe/